Your baby's first year is made of a thousand firsts, most of which they will not remember; the first coo, the first step, the first tooth, the first thanksgiving, and now, the very first Halloween.
While they may not participate in lots of trick-or-treat activities, this doesn't mean they shouldn't enjoy the festivities, the little scares, and the fun surrounding Halloween.
Please read: This information is provided for educational purposes only and is not intended to treat, diagnose or prevent any disease. We encourage you to make your own health care decisions in partnership with a qualified health care professional.
This post contains affiliate links, this means at no extra cost to you, we make a commission from sales. Please read our Disclosure Statement

Halloween is the season of crazy costumes, lots of defaced pumpkins, and an unending candy flow. While your baby may not take part in all those, you still can give him a time of his life on his first Halloween.
Here's are a few tips to make your baby's first Halloween special.
Fun Halloween Activities for Under One-Year-Olds
1. Start With Preparations Early
To do a good job, you'll need time. Babies are a lot of work, and Halloween is a whole lot of work too. If you rush through it with just a few days left, you'll not create the good memories you want with your child. Plan in advance the costumes you'll want your child to wear and have them ready.
Make purchases for decorations early to avoid last-minute disappointments. If you intend to have elaborate decorations, put them up early.
Save the delicate decorations for the last few days to prevent breakages and spoilage. A house decorated in advance sets the mood and increases the anticipation for your little one who may still not be aware of the holiday.
2. Take Loads of Photos
Infantile amnesia will make this day blurry for the baby; therefore, you need to have an excellent camera to take lots of photos and videos. Remember to record not only the D-Day but also the preparations.
Nothing freezes a moment like a good photo; if you're not gifted in this department, employ a professional photographer's services for some keepsakes.
Schedule a photoshoot at home or in a location of your choice for the gallery-worthy pieces. You will be very grateful in the years to come that you did.
3. Let the Baby Help
Nothing excites a one-year-old like getting involved in fun activities. Let the baby help in carving out the pumpkin or hanging out a decoration.
One-year-olds are at a stage where they are curious and have now mastered their hand-eye coordination. Allow your child to help you put details on their costumes and applaud them for a job well done.
If they want to attempt more complicated tasks, give them the opportunity. A messed-up outfit may look better for Halloween than a perfect one. It's the effort that counts.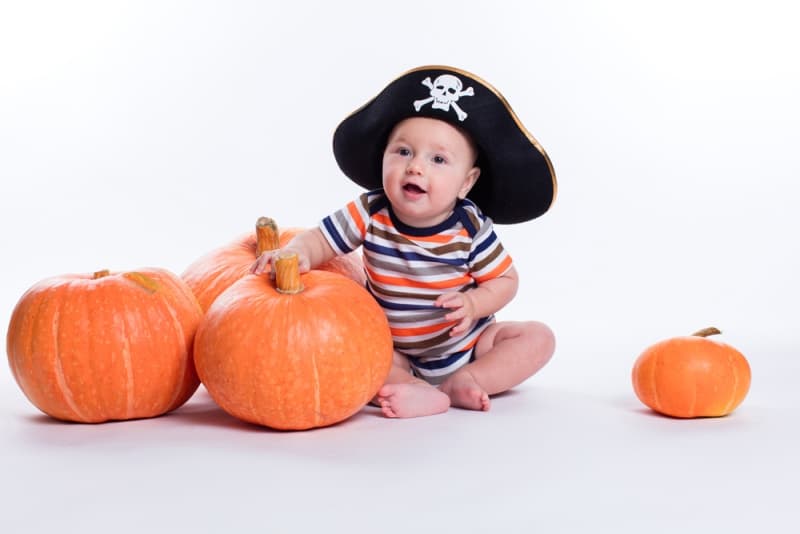 4. Work around your baby's schedule
Since we are talking about an infant, be realistic in your planning. Schedule baby related activities around your little one's wake times. Early mornings and evenings are best as the baby is usually less tired.
5. Keep the Costumes Simple
He's one, if the costume seems too elaborate, difficult to wear, and cumbersome to keep on, he will not have a good time. He may be young, but he also has preferences. Try to find out what he likes and get him a costume that he will be delighted to wear.
A simple themed hoodie or light mascot that doesn't cover the whole head should do. Do not force the baby into a costume he seems to hate. Remember, some of the costumes may also freak him out, don't terrify him on his first Halloween. Save the terror for when he's seven, and he can handle it.
6. Make your own Halloween decorations
If you are crafty, why not make your own Halloween decorations? Your baby will be so excited as you all work together.
7. Involve Him in Picking out the Themes Early
What excites him?
What doesn't he like?
If your baby is at a place where he can express preferences verbally or non-verbally, involve him in picking out the theme. Take him shopping and watch what he gravitates towards and get that for him and the family.
Sometimes we think we know what our kids want, and then they surprise us with their own choices. Let his little personality shine through on his very first Halloween.

8. To Trick and Treat, or Not?
Trick and treat escapades are fun for the older kids, but they may torturous for a one-year-old. They may not enjoy the walks and may even be terrified of strangers. Consider skipping this part of the tradition for the sake of the baby or get alternatives.
You can choose to do your family version of trick and treat without necessarily going out. You could also visit relatives and friends for a play date, and a little Halloween themed party instead of tricking and treating.
Alternatively, invite relatives over, especially the grandparents, for a trick-or-treat party instead of taking the baby out. You can play games and role-play around the house to make it fun for both the adults and the children.
If you have older kids who want to go out, do that bit of the celebration earlier in the evening to give you allowance for getting back home early. A trip to a trick-or-treat venue would be ideal for all the kids, especially for the little one.
9. Fun Made in the Kitchen
Pumpkins are fantastic, but pumpkin-themed cookies are better. Make some fun with orange-themed cookies with various decorations. Involve the baby in the preparation process and make fun with role-playing. Get your child a Halloween themed apron and chef's hat to complete the look.
Rub some flour on their faces for that ghost look and chase them around the house as the cookies bake. Give them some cookies to decorate too.
Your kitchen will end up all messy, but the memories will be beautiful.
Plan a Halloween themed dinner or lunch and make the best weird colored meals for the family – orange rice, green spaghetti, or red stew. Make some Halloween themed finger foods to enrich the experience. The meals may become a tradition that goes on for generations.
10. Read to the Baby
Most Halloween stories may be scary and full of ghosts and spirits, and if that doesn't scare them, go ahead and read one of those to them.
If it does, pick one of their favorite books. Babies love stories, and you reading a book to your little one, maybe all they need for a beautiful first Halloween.
Read the books as their bedtime story or as a unique activity during the day. Remember to make story time as creative as possible. If you have the time and energy, plan for the book you'll read. You and your baby could even dress up as some characters in the book. Cool, right?
Finally, Don't Forget to Have fun
Don't get caught up in plans and running around, deciding on the best way to make your baby's first Halloween memorable that you forget to have fun. When the day is over and several Halloweens later, your child will remember how you made them feel. It's the baby that's special, not just the day.