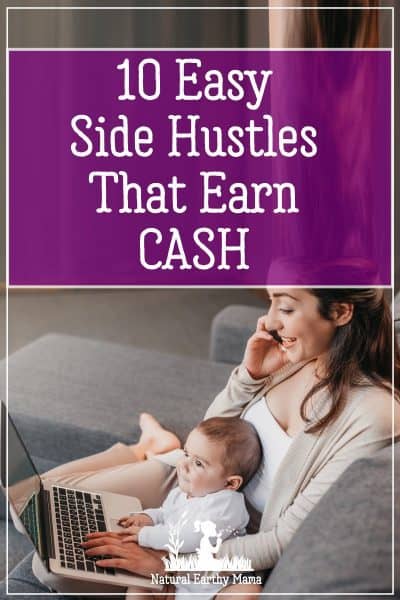 A growing number of stay at home moms are looking for easy side hustles to help them make more money.
A well chosen side hustle is a great way to learn new skills, develop existing skills and make spare cash while raising your children.
Please read: This information is provided for educational purposes only and is not intended to treat, diagnose or prevent any disease. We encourage you to make your own health care decisions in partnership with a qualified health care professional.
This post contains affiliate links, this means at no extra cost to you, we make a commission from sales. Please read our Disclosure Statement

Being a parent is the best, most rewarding (and hardest) job on earth. Unfortunately, it is an unpaid position.
Living on one paycheck can be very hard, or even impossible these days. With careful selection, you can choose a side hustle that can make you as much, if not more per hour than you were making at your previous job.
There are a few little things that you can do that do add up, like spending some time doing paid surveys (yup, this is legit!) or cutting coupons and making the money you do have go further!
Here are some more extensive but effective side hustles for stay at home moms:
1 Child Care
If you are at home watching one (or more) child of your own, why not look after other people's children too.
You may do a private arrangement with other parents and friends, or work through an agency. The upside to working through an agency, is that most have a backup system if you or your child is sick.
The benefits – you already have what you need at home, and generally kids entertain each other quite well.
The downside – if the child you are looking after and your own don't get on, you will soon find out how much you don't like other peoples children.
The pay – very much depends where you are and what the going rate is. Here you earn $6/child/hour with a maximum of 4 children under school age at any time, including your own children.
2 Tutoring
The wonders of the online world is that there is so much scope for being a tutor or making assignments.
It does not matter if you don't want to teach specific subjects, you can just teach conversational English or other languages for companies like VIPKID, Cambly, Qkids.
Or if you have a professional degree, you can get in touch with your local university departments and see if they need help. The local university here employs lawyers and doctors to mark some of their assignments.
The benefits – usually the hours are flexible and the pay is great
The downsides – sometimes the have quick turn-around requirements for marking and it can be a learning curve to understand what they are looking for.
RELATED POST: Parenting Newborns
3 Sell Online
One of the most common, and effective side hustles is selling things online. There are multiple ways of doing this.
Etsy – if you make a craft, etsy is the perfect platform to sell on!
Ecommerce site – you can buy items from wholesalers like aliexpress.com and on sell them to others using your own ecommerce site.
Craigslist – there is a grown number of people buying from Craigslist or garage / yard sales and onselling the items for a profit. If you know what you are doing, this can be very lucrative.
4 Direct Marketing
If you have a large network of friends and you love the idea of growing your own business, network marketing has a lot of promise for you. Companies like Do Terra, Avon, Stella & Dot, Chloe, and Isabel are all places to start.
The upside – there is very little investment required and a large amount of the training and advertising materials are provided. The potential to earn is only limited by your ability to sell.
The downside – there is a limit to what your friends and family will want to buy from you. To avoid this pressure you need to keep increasing your fan base.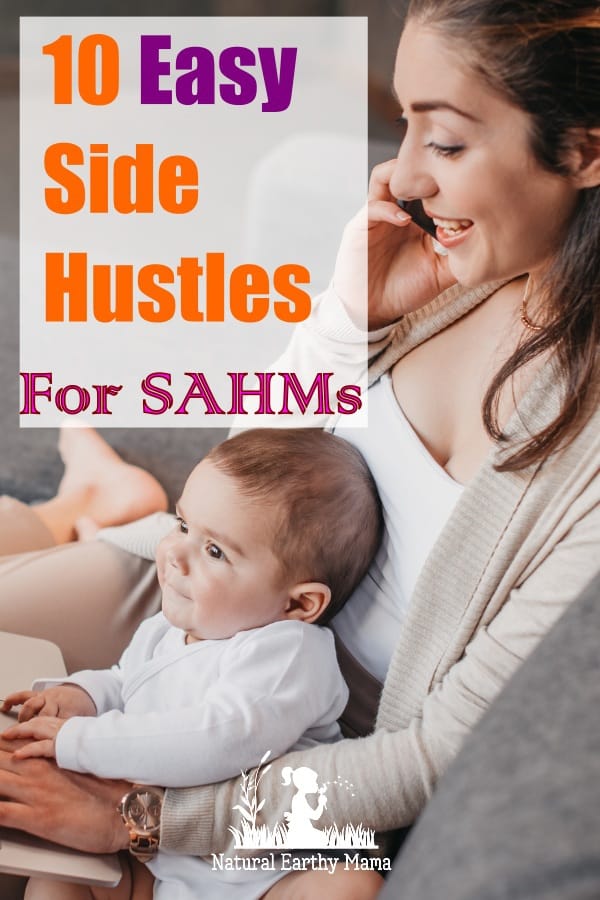 5 Party Planning
Believe it or not, there is a market for planning children's (and adults) parties. Party planning takes a lot of time and effort if you are not used to it, and many parent prefer to outsource.
Generally party planning charges a flat fee depending on the expectations, the number of people and the experiences requested. A childs party might be as little as $200 plus expenses, a baptism could be as much as $1000.
The upside – once you have a few parties under your belt, a lot of the planning is simply a copy and paste job. You know what people to contact, how much things cost and where to get items.
The downside – getting your first few gig can be a challenge, but once you have broken in to the circle, word of mouth referrals will keep you busy!
6 Start a blog
Many moms start a mom blog with the hopes of making thousands per month. AND it is possible. BUT it takes a lot of hours and a lot of work for the first few years until you build a following.
I have a great post on how to start a blog here. Blogging for money means you need to start out right on a self hosted site. I prefer to use wordpress.org (not .com) on a site hosted on your own hosting. Personally I use Black Chicken Hosting because their plans are super affordable and their customer service is actually amazing.
Be wary of some of the bigger seemingly cheaper hosing plans, they sucker you in with cheap plans to start with and hike the price later, also they are notoriously hard to get help with or move away from when you get big and popular!
Then choose a good theme, I like DIVI as it has options for building pages and posts that are very easy to use. And their customer service is amazing. On this site I actually run Generatepress which is SUPER fast and very customizable.
Also I have found that you have a lot better success if you use paid stock photography, this doesn't have to be expensive! I love to use Deposit Photos as their packages are SUPER affordable.
The upside – you are in charge of your own hours, content and how you spend your time.
The downside – many bloggers work 40 hours a week for a year before they start seeing a good income. Some manage it in a matter of months, but this might not be you!
If you REALLY want to learn about blogging I really recommend the courses at Dare to Conquer – he has a free blogging bootcamp that is well worth a try! I am a lifetime member and the information there is AMAZING.
7 Virtual Assistance
This is a fantastic way of making money from home as a mom. You can start a VA business as a side hustle, and develop it in to a full business when they children are older.
A VA is someone that provides office support off site. It can range from doing graphics, content creation, scheduling, booking flights, answering emails, organizing online files, social media management and so much more.
The upside – you are in total control over what services you provide and what hours you do, as well as how much you charge. VA's typically earn $35-50USD per hour depending on your skill set.
The downside – as with any work from home business ideas, you have to build your company from the ground up – work out what services you will provide and then find the clients that are willing to pay you for this.
Learn how to become a VA here in 30 days or less
8 Editing and Proofreading
While this can be offered as part of being a Virtual Assistant, it is a valid job opportunity for a stay at home mom wanting job flexibility on its own.
You can find work through bloggers, magazines, science journals and many other places. This is an especially lucrative option if you are fluent in more than one language.
The upside – while there will be deadlines, the actual hours in a day that you choose to work is up to you. They won't mind if you choose to work after 8pm at night once the children are all asleep.
The downside – getting in on this action can be a challenge, but once you have a few regular contracts, and you do an amazing job, you will be set!
9 Free Lancer
What are you good at? Can you sell that skill to people?
Free lancers can be content writers that sell to blogs, magazines and newspapers, they can be musicians selling tracks to advertisers or video creators, or a whole host of other options. 7 Steps to becoming a freelance writer.
You can be a free lance business consultant, green homes consultant or even a personal shopper!
10 Yard Work
This is not the typical stay at home mom side hustle, but it is a goodie! There is a local business here that ONLY employs women gardeners/yard workers and they are making good money working for the vulnerable and elderly in our community that feel much safer having women come and care for their yards.
The upside – Mowing lawns and weeding may not seem like the most glamorous job, but it is good for the body and good for the soul. AND you can make pretty good money doing it too.
The downside – you will need the tools for the job, and a truck to get there. Also there are probably going to be some issues around taking your kids to work with you, so this is best when the kids are at school or day care, or in the weekends/evenings.
Wet or snowy weather will slow you down, and your busy season is also the school summer holidays. But there is very good potential for making real cash.
Easy Side Hustles for Moms
How ever you choose to make your money while you are at home raising children, make sure you think through your business idea and make a real plan. Don't just jump in to the easy side hustle that appeals most to you without doing some real planning and research first.
If you can't spell or have no real grasp on grammar, then proofreading will be the worst choice for you, in the same way, if you have a bung leg maybe deciding to run a lawn mowing side hustle is a daft idea.
You really need to think about
Your strengths
Your weaknesses
Your passions
What you need to achieve with your side hustle.
Choosing a good side hustle for you to earn money while you are at home raising children is possible, and I hope these 10 ideas really gave you a great place to start.