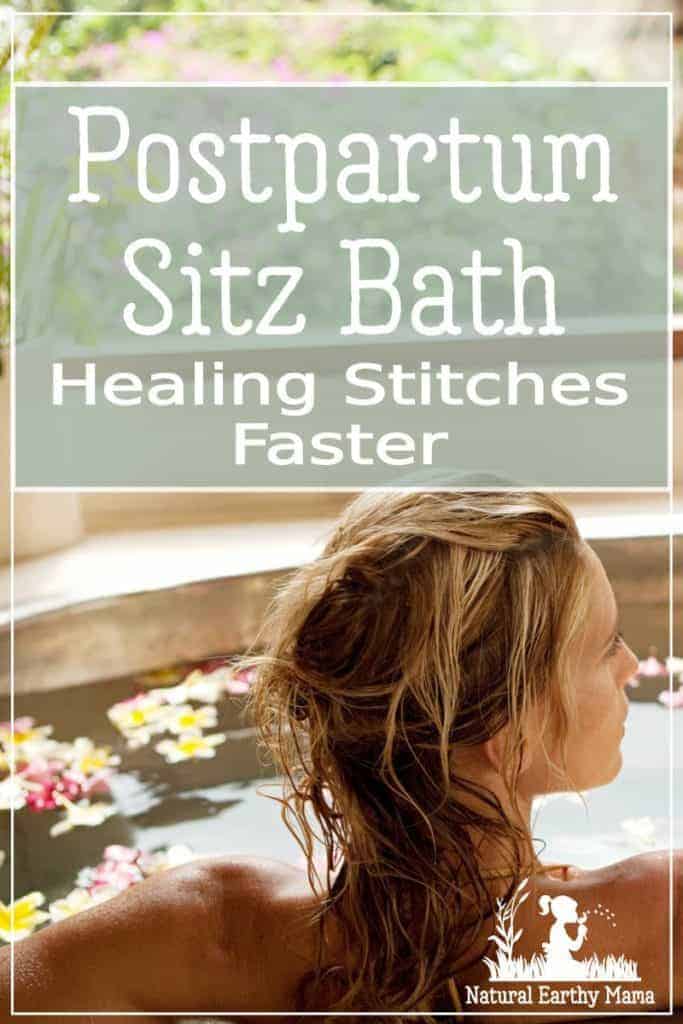 Having a baby is amazing, the pain and discomfort after delivery sucks.
Most first time mothers that have a vaginal delivery will end up with stitches. Everything ends up swollen and sore even with you do not get stitches, but a postnatal sitz bath can help speed up the healing of your nether regions.
Please read: This information is provided for educational purposes only and is not intended to treat, diagnose or prevent any disease. We encourage you to make your own health care decisions in partnership with a qualified health care professional.
This post contains affiliate links, this means at no extra cost to you, we make a commission from sales. Please read our Disclosure Statement

Traditionally in most cultures, women were (and some still are) pampered and cared for by family for the first 4-8 weeks. New mothers were allowed to rest and relax, fed a high nutrient diet and encouraged to sleep, rest and bond with baby. Not surprisingly, in these cultures they also have very low incidences of postnatal depression, or colic.
One traditional cure for mother's painful vaginas post partum is the sitz bath.
Sitz baths are a warm (or cool) bath specifically made to soak your bottom in. You can buy toilet top baths, just sit in a large shallow basin, or use your normal bath.
A sitz bath is not a deep soak, it is usually only a few inches deep, to target the vagina and perineum area.
Postpartum sitz baths can be helpful to:
Speed stitch healing – keeping a wound clean and moist are the best conditions for wound healing
To keep clean – there is no need for soap, a simple salt water and herb bath will do all the cleaning for you
To treat hemorrhoids – a sitz bath is one of the best treatments for hemorrhoids after having a baby
To relax – this allows you to give baby to Dad or Granny for half an hour
How to have a successful sitz bath
Get that bath clean, you want to make sure you are starting with a nice clean surface
Fill your muslin or mesh bag with all your sitz bath ingredients
Run the water as hot as you can
Swish the muslin bag around
Leave the bath to cool until comfortable
Get naked from the waist down, leave your jumper on, or you will get cold!
Sit in it for 10-20 minutes
Climb out and PAT yourself dry gently with a CLEAN towel
You may like to apply some of this cream – Silver has been shown to kill bad bacteria and speed up healing.
RELATED POST: Postpartum healing – how to speed recovery
Sitz bath ingredients
Each of these ingredients are here for a specific reason, but if you cannot source them, even a simple salt water bath will be beneficial.
Calendula is a natural soothing herb that promotes healing
Epsom salts are full of magnesium, and they help remove toxins, sooth and reduce swelling, and aid relaxation
Lavender Flowers not only promotes restfulness, but lavender is antibacterial, anti fungal, and an antioxidant. If you have a therapeutic grade, pure lavender oil on hand, you can use a few drops of it instead.
Unrefined sea salt is full of minerals to aid healing, as well as antibacterial action to help keep your skin clean
Witch Hazel is an ancient treatment for hemorrhoids, and it is a natural anti-inflammatory
Yarrow is used to help stop bleeding, it also has anti bacterial and anti fungal properties.
Postpartum sitz bath recipe to speed up healing and sooth pain
In a large bowl you should combine:
1 Cup Unrefined sea salt
1 Cup Epsom salts
1 Cup Lavender flowers (or 20 drops of lavender oil)
1 Cup Calendula flowers
1 Cup Yarrow
1/4 Cup Witch hazel (liquid)
Mix these very thoroughly and put the sitz bath mixture in to a container with a lid.
To use the sitz bath mixture, just place 1/2 a cup of the mixture into a muslin bag and add to a super hot bath and swish it around like a giant cup of herbal tea.
Once the water is cool enough to climb in, have a lovely long soak. You can leave the 'tea bag' in while you are in the bath.
If this all sounds too hard, you can buy a premade sitz bath combination here specially made for postpartum mamas.