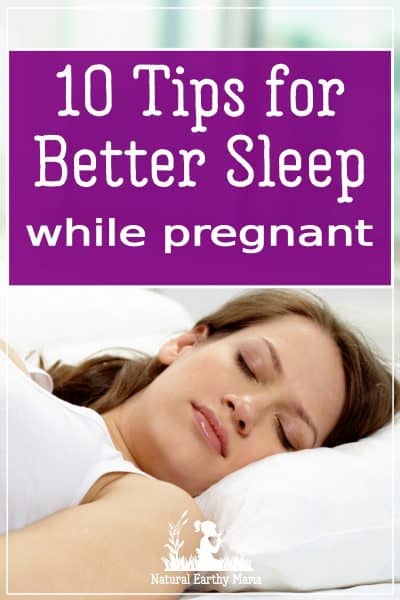 The nine months of pregnancy are an exciting yet anxious time for an expecting mother, especially if it's her first time.
Sleep during pregnancy is one of the biggest and most common challenges that women mention.
Please read: This information is provided for educational purposes only and is not intended to treat, diagnose or prevent any disease. We encourage you to make your own health care decisions in partnership with a qualified health care professional.
This post contains affiliate links, this means at no extra cost to you, we make a commission from sales. Please read our Disclosure Statement

For many, the opportunity to bring a child into the world is a precious experience that's unrivaled by anything else in life.
However, during this time, an expecting mother is not just taking care of herself, but also the life growing inside of her, all the while trying to get ready to be an actual parent.
Her days are busy and stressful, and so she needs to not only get enough sleep at night to rest up, but also get quality sleep.
Why is sleep during pregnancy important?
Sleep is important for anyone, but especially a pregnant woman. It's when the body repairs itself and even grows, and when the brain processes everything that happened during the day.
In the case of a child growing inside of you, there is a lot more growth going on than usual, and your brain needs the downtime to process all the new sensations, which are happening inside and out.
10 Tips to help with sleep during pregnancy
These tips will help you get a good night sleep despite being pregnant!
1. Positioning
It all starts with sleep positioning, which is going to change from what you are probably used to.
Stomach sleeping will be impossible after your first trimester, for obvious reasons, and back sleeping isn't recommended, since a growing fetus can put pressure on the vena cava, intestines, and lower back.
Sleeping on your left side is ideal, since it makes it easier for the body to get nutrients to the growing child in your belly, but right-side sleeping is okay too.
2. Get plenty of pillows.
You'll need them to contour your body and support yourself as your physique changes throughout pregnancy.
A good collection would involve at least one body pillow and perhaps a half-dozen smaller pillows. This body pillow is fantastic I have slept SO much better since getting one!
If you can, pile spare pillows right by the bed so you can reach them by hand without getting up.
4. Swap sides
No matter what side of the bed you're used to sleeping on, you should now get the side closest to the toilet.
The growing baby inside of you is likely to put pressure on your bladder, so it's easier to be closer to the bathroom.
Avoiding liquids the last few hours of consciousness is helpful, but only so much. It varies for everyone, but this is reportedly the worst in the first and third trimesters.
5. Snoring
Another change that might pop up is that of snoring, which is more likely during pregnancy.
It's possible to develop sleep apnea during pregnancy, even if only temporarily. This can be due to either weight gain during pregnancy, or increased swelling (or both).
See your doctor about possibly doing a sleep study and getting a CPAP machine.
For that matter, if your partner snores, now is a great time to have them get treatment for their snoring too, since it might now be keeping two people up at night: you, and your unborn child.
It might be as simple as getting one of these, or some of these.
6. Space
Also make sure your sleep partner understands that as your womb grows, you're going to need more and more of the bed, especially as you might need to spread out some nights to get comfortable.
It might come time for a while at least that you need the bed to yourself.

7. Avoid blue lights
Avoid blue lights from your screens at night and in the evening.
Also, don't use any electronic screens the last hour of the day. If you want to read anything, get a paper version or copy.
Doing all this will help your eyes and brain settle down a bit.
If you must use screens at night, try installing f.lux to block the blue light, or grab some of these blue light blocking glasses.
8. Relax
Relaxing before bed is key to a good nights sleep. Enjoy a warm beverage and a warm bath too, in order to relax your entire body.
(Just remember to make the beverage small so you can avoid one of those midnight toilet trips.)
9. Take some pain relief
If you have any kind of pain anywhere, do something to relieve it, because it will either slow down you getting to sleep or wake you up later, if not both.
I often rub my sore back with some of this before heading to bed, and it makes SUCH a difference.
10. Make a ritual
Putting together a nightly ritual of getting ready for bed helps you make it a good habit, rather than just crashing whenever your day is over.
Going to bed at the same time every night is extremely useful, as your body will get used to it. It might even be good practice for later down the road when you need to teach your child to keep a consistent bedtime.
Sleep During Pregnancy
Even with all their good intention, it's not uncommon for pregnant women to wake up three to five times each night.
However, make sure you still get enough hours of sleep in total. As compared to women that get seven or more hours, those that get less than five total have longer labors, and are nearly five times as likely to go through C-sections!